GOLLY GUIDE UPDATE: v3.3.21
31-Dec-2019
The Golly Guide currently lists two Lollipopman Golly badges from the white waistcoat era.
There are a number of differences between them and they are easy to spot. So we were intrigued when a collector recently reported a possible new Die variation. A close up of the detail is shown below... full details are in the online Golly Guide. From the homepage, click on 'Badges' >> 'White waistcoat gollies' >> 'Lollipopman'.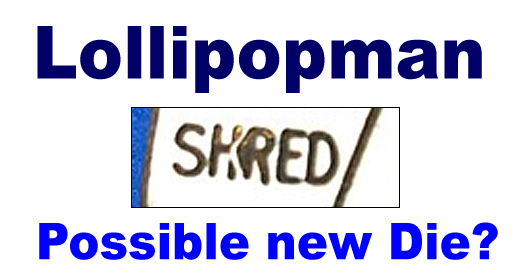 A number of collectors from the 'Robertsons Badge Club' facebook group have also confirmed they have seen this variation. We await further reports of this interesting anomaly before considering it for inclusion in the Golly Guide.

To see all the Robertsons Golly badges and the many thousands of other genuine Robertson's Golly items with detailed notes... all in full colour... subscribe to the online Golly Guide here:
www.gollychecklist.co.uk/shop
Priced at only £1 per month (payable annually).
Paypal payment and internet connection required.