GOLLY AUCTION 004 UPDATE
22-Apr-2020
GOLLY AUCTION 004 UPDATE
Thanks to all those who have taken the time to check out the new GOLLY AUCTION which is built and operated directly off the main Golly Checklist website. The direct link to the latest auction for anyone who has missed it is below:

https://gollychecklist.co.uk/golly-auction-0041

The feedback so far has been positive and we welcome any comments or queries about anything which may not be clear. I have got the web designer on stand by to address any major issues to make the auction experience as user friendly as possible for all involved.

One recent example of this is the bidding units. For reasons of simplicity all bids are to be in whole pounds, in fact we have disabled the decimal place so it is not possible to enter any bid in pounds and pence. However this caused a slight issue with one bidder entering "40.00" which the section read as "4000" as the '.' was not recognised. This has now been addressed so that anyone entering a ".' will see the attached error message.

The badges in the fifth Golly Auction are now up (on the Auctions page, click on the 'View Auction' button under the 'Next Auctions' system. We are working on the details of the sixth Golly Auction which I look forward to sharing with you soon...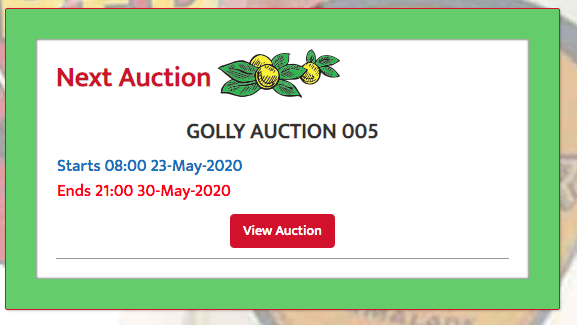 In the meantime, good luck and stay safe.