Robertson's Golly Checklist 7th edition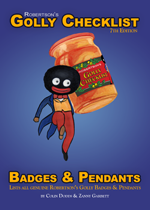 For those who like a handy printed reference when out hunting for those elusive items. The original checklist from 1991 - now in its 7th edition - has been extensively updated. There is now one checkbox for each badge so it's more easy than ever before to keep track of your collections.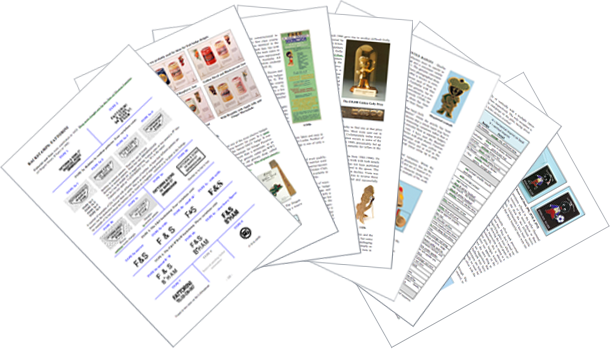 Following 2-years of intense work by the authors, the latest update to the famous Golly Checklist now contains over 700 detailed images across 130 pages packed full of information, it's the most complete record of Robertson's Golly badges ever produced. Being an impressive 50% larger than the previous edition, and used by the worlds leading collectors it's the publication that no Golly collector should be without.
Contains details of ALL official Robertson's Golly badges and pendants, ever issued by this famous company. Including:
+ extensive guidance on rarity,
+ clearer images of all backstamps
+ detailed notes on variations
+ advice on cleaning your badges
+ how to avoid the fakes
+ over 100 full colour images

and much, much more.
The seventh edition of the checklist is unrecognisable from those that have gone before as all makers backstamps have been redrawn, all tables have been reformatted and all text has been re-examined to make this the most extensive and accurate listing ever.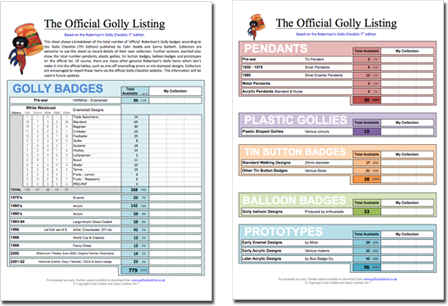 In addition to the updated Checklist, for the first time collectors also receive a full colour handout showing how many badges from each era make up the official listing. With a total of 789 golly badges making up the official listing this is the ideal way to keep track of your own collection whilst you hunt out those elusive items. Priced at £20+ p&p, its only available from GollyChecklist.co.uk
£25.00